Today we launched our campaign to support filming of Star Trek: Secrect Games on www.startovac.cz (Czech equivalent of kickstarter.com) ! The aim of the project on Startovac is to cover part of our costs for production of the fanfilm, mainly with prothetics, costumes, props... We prepared a short video (in Czech with English subtitles) that you can view on either startovač or youtube...
Our project on startovac will run for exactly 60 days. Startovac follows the same concept as for example kickstarter - it enables people to financially support projects they like and believe in. For our fanfilm, we have selected typical Star Trek number as our goal: 47,047 CZK (roughly equivalent of 1812.47 eur). In case this amount is not reached, all the money will be returned.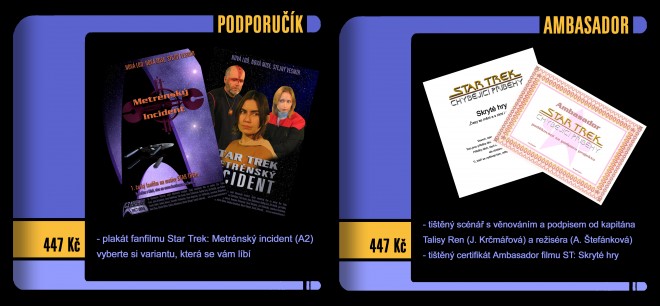 In case you decide to support our shooting, you will have not only our unending gratitude, but you will be also able to select a reward. We prepared rewards which are closely linked to our fan film and to Star Trek. And finally, everyone who supports Star Trek: Secret Games on startovac.cz will have his/her name listed on our webpage and also in the end credits of the film.